Fundraising screening of Pride raises nearly £2000 for Jeremy 4 Labour
Details

Written by

Dave Lewis
A jointly organised screening of the movie Pride by LGSM and Jeremy 4 Labour at the Phoenix Cinema in Finchley on Monday 19 September 2016 raised an astounding £1.966.81 for Jeremy Corbyn's Leadership Campaign Fund.
The event sold out and the film received a rapturous reception from the audience. The post-screening event included contributions from original LGSM members Mike Jackson, Gethin Roberts and Jonathan Blake. Their approach to the stage saw a huge round of applause, which we all found incredibly humbling. They were then joined on stage by actor George MacKay, who plays 'Bromley' in Pride. George addressed how proud he felt of the film and the heartwarming reception it has received since release.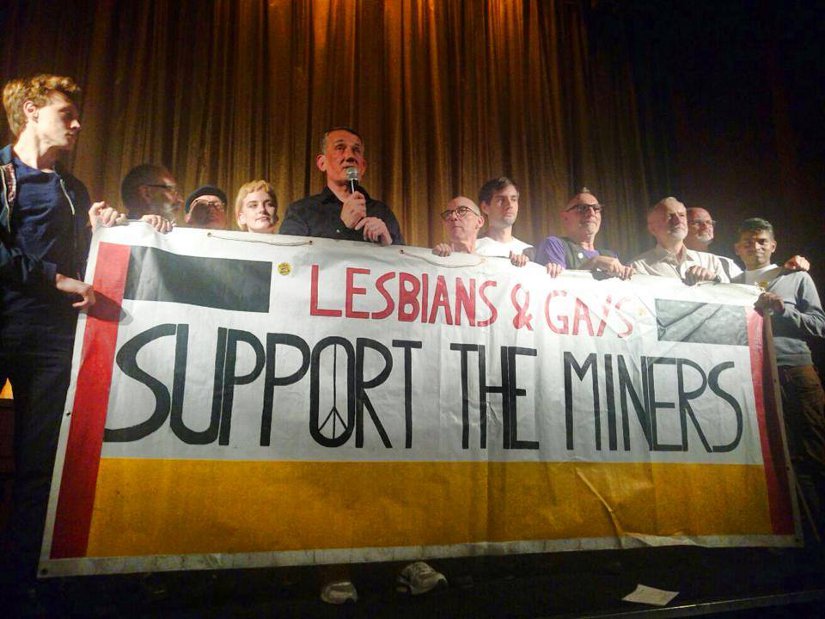 Then, finally, Jeremy Corbyn himself joined the stage and spoke for a full 15 minutes on Labour's commitment to LGBT rights, the importance of the central message of the film, that of solidarity across barriers of age, gender, race and sexuality. He concluded his contribution by thanking everyone for attending and explaining how much he had enjoyed watching the film again. Yes, even with his busy Leadership Campaign timetable, he had watched the film with us all!
Stalls selling LGSM, Orgreave Truth and Justice Campaign and Jeremy for Labour merchandise did a brisk trade in the foyer area all evening and a bucket collection for the Campaign Fund at the exit doors raised a total of £372.02.
Of course, we all now know that Jeremy went on to secure a victory in the Labour Leadership election, with an even bigger mandate than he secured last year. The money we raised on 19 September will go towards the expenses that Jeremy incurred travelling around the country, speaking to thousands and thousands at rallies and packed meetings wherever he went.
We at LGSM send Jeremy Corbyn our heartfelt congratulations on his victory. We thank every single one of you who came along and supported our fundraiser. Solidarity Forever!