LGSM have started the massive task of building an archive of all the historical records from our year of existence between July 1984 and July 1985. This archive will include minutes of meetings, press cuttings, photographs, interviews, film footage, ephemera, reminiscences and much, much more. This will be supplemented with material from our reformation as LGSMA (Lesbians and Gays Support the Miners Again) in 1992, when a second round of pit closures was announced. And finally, we will include more contemporary material from our reformation in 2014.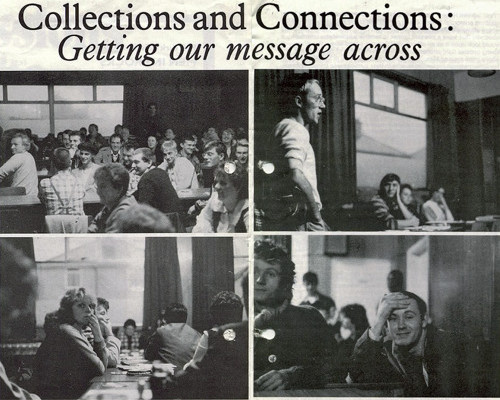 As a taster for this, we decided to release what we believe to be one of the most important of these records – an audio recording from one of our meetings. The meeting took place on the evening of Sunday 16 September 1984 at Gays the Word Bookshop in Central London. The 'business' part of the meeting concluded before recording and we were then joined by Dai Donovan, Ally Thomas and Tom Jones from South Wales. It was at this point in the meeting that the recording started.
Dai had already been to London on 6 September 1984 to collect our first donation cheque on behalf of the South Wales striking miners and their families. This donation was presented to him on stage at a gay pub called The Bell in Pentonville Road, Kings Cross. It is this scene that is broadly recreated in the film Pride (shot in the Royal Vauxhall Tavern, because The Bell closed some years ago). But for many of the LGSM members present at this meeting, this was the first time we had actually met any of the people that we were collecting funds for.
Dai and Tom do most of the talking in the recording, but several LGSM members speak towards the end.
Dai outlines just how huge a task feeding the striking miners had become and tells the meeting that £770,000 of South Wales NUM Funds and assets had been sequestered by Thatcher's Government. He explains that even Tom Jones's personal bank account had been frozen and examined in detail by the bank and Government sequestrators. He goes on to talk about the shift in consciousness experienced by miners and their families throughout the country since the start of the strike in March 1984. And then he reports that Welsh miners had linked cause with the women of Greenham Common.
He shares copies of the NUM newsletter Valley Star with LGSM, explaining that this goes to all striker families alongside their food parcel for the week. And LGSM share our newsletter with Dai, Ally and Tom, to take back to South Wales. We then present them with a copy of the book Coming Out by Jeffrey Weeks, which they accept and deposit in the South Wales Miners Library.
Dai and Tom can be heard inviting LGSM to visit the South Wales striking miners and stay in their homes and this trip then happened six weeks later. Again, this visit is depicted in the film Pride. 27 LGSM members went on that first trip to Dulais and there were two further trips organised in 1985. Many LGSM members relate that these trips changed their lives forever – and cemented the friendships that endure to this day.
The stories that Dai and Tom relate about the events of the strike are incendiary and inspiring, in equal measure. You will hear stories of how Derbyshire pubs barred both native and visiting police force personnel (drafted into the area by the Thatcher Government to keep coal stocks moving) from their premises because of violence by off-duty officers. You will also hear what a crucial role the women of the mining communities played in the dispute.
If anyone reading this still believes that the British State is liberal, plural, benign or paternal, please listen to just how that State machine was treating the striking miners in 1984. And take this story with you into future battles – because you need to know what you're up against in order to stand a chance at victory. What we hope you don't take away from these recordings is resignation to defeat – the Thatcher Government did ultimately defeat the NUM in 1985, but it was a very narrow victory and things could so easily have been very different. Many factors contributed to the NUM defeat – the Thatcher Government's determination was only one of these.
The sound quality is poor in places and we apologise for this. The original recording was on a standard quality cassette tape and we were not a wealthy bunch.
Below is a list of those LGSM members who were present at the 16 September meeting, in alphabetical order. Those who can be identified as speaking at some point in the meeting are shown in bold. Some of the speakers are unidentified, but if listeners recognise any new voices and let us know, we will amend this posting.
Mark Ashton
Ben Benson
Jonathan Blake
Stephen Browning
Paul Canning
Jeff Cole
John Cooper
Rob Cooper
Martin Goodsell
Ray Goodspeed
Susannah Hall
Brett Haran
Derek Hughes
Mike Jackson
Robert Kincaid
Dave Lewis
Stephen Meylor
Robert 'Monty' Montgomery
Johnny Orr
Bernard Padden
Lucia 'Polly' Vittorini
Matt Williams
Nigel Young
This recording is as politically relevant today as it was 31 years ago. This is the sound of solidarity in action – for all to hear. We hope you enjoy listening to the recording and that you take valuable lessons away.
Part 1
15 minutes

Part 2
15 minutes

Part 3
15 minutes

Part 4
20 minutes