The Voice of the Pits (and Perverts)
Details

Written by

Dave Lewis
The second instalment of the LGSM archive is our first archive release of 2016 and we hope you find this interesting.
This is the only other audio recording that we have from our 1984-85 existence as a group. It is a recording of a public meeting that was held on 19 October 1984 to raise support and funds for the Dulais Valley strikers and their families. This meeting took place at Conway Hall, Red Lion Square a week before the first LGSM visit to Wales and there was an audience of almost 250.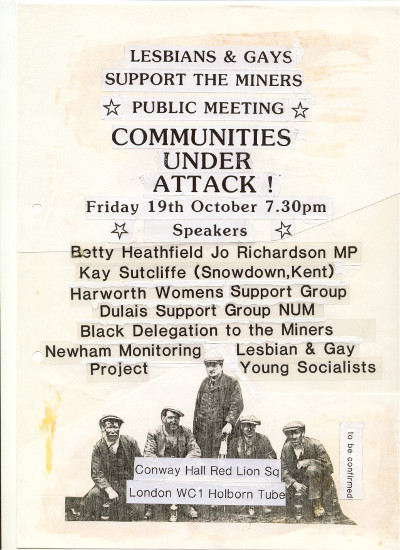 The meeting is chaired by Mark Ashton, with speakers from South Wales NUM, Harworth Women's Support Group in Nottingham, Labour Lesbian and Gay Young Socialists and Young Communist League. The recording confines itself solely to the platform speakers – there were multiple contributions from the audience, but these were not recorded.
Hear the first hand stories of the police violence against strikers in Nottinghamshire, where those on strike were outnumbered 10 to 1 by working miners (Nottingham was the only area nationally where the majority of miners worked throughout the strike). Also hear how the local and national press suppressed any mention of this violence. There is also first-hand testimony of the transformative effects of the strike on the political consciousness and personal confidence of women in the coalfields.
Letters of support to the meeting are read – from Tony Benn MP, Ken Livingstone (then the Leader of the Greater London Council), Betty Heathfield (one of the leaders of Women Against Pit Closures) and Mick McGahey, (President of the Scottish NUM). All send solidarity greetings to LGSM and the London Lesbian and Gay Community.
Although the vast majority of the money that LGSM raised during the strike went to South Wales, on hearing the plight of the Nottinghamshire striking miners at this meeting, we subsequently agreed to donate £250 to the Nottingham Women's Support Group, so inspiring was the story from Harworth.
As with our last audio release, the stories that are related in this recording are incendiary and inspiring.
The sound quality is challenging in places and we apologise for this. But please persevere and listen to this vital recording.
Part 1
15 minutes

Part 2
14 minutes