LGSM Donate £2,500 to Mark Ashton Red Ribbon Fund
Details

Written by

Dave Lewis
On Friday 4 December, there was a joint presentation by LGSM & UNITE the Union's BASSA Branch (British Airways Stewards and Stewardesses Association). LGSM presented a donation of £2,500 and BASSA presented a further donation of £1,000. A further £700 has been raised from sales of the reprinted Mark Ashton Trust T-shirts at events we have attended over the last year.
The presentation was attended by Dean Ashton (Mark's cousin), Ashtar Al-Khirsan (representing the Red Ribbon Fund), Mike Jackson, Jonathan Blake, Martin Goodsell and Dave Lewis (LGSM), Gail Cartmel (Assistant General Secretary, UNITE) and Sean Beatty, Adrian Smith, Marcel Devereaux, Ian Croker, Shaun Loveland and Matt Smith (all UNITE).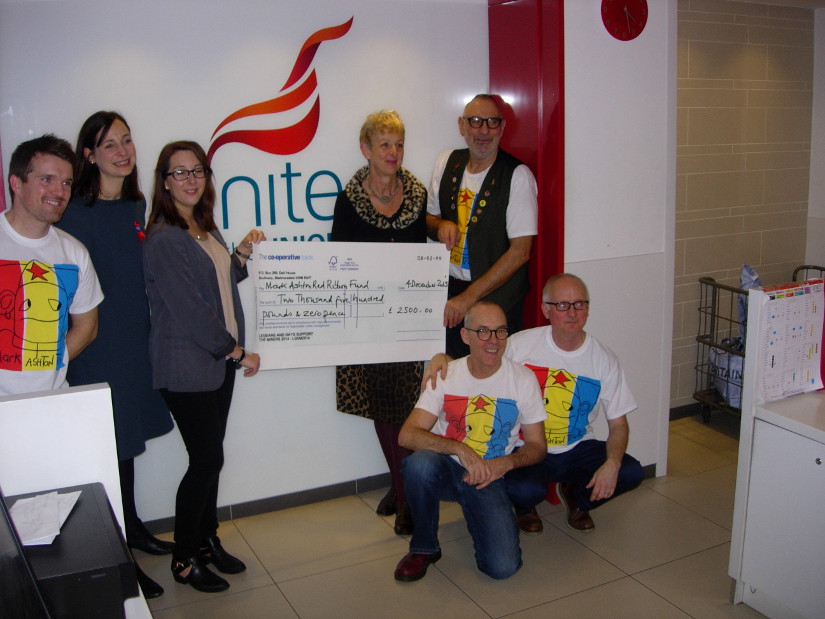 Accepting the donations were Fiona Myers and Ilona Reynolds from The Terrence Higgins Trust (THT now administer the Red Ribbon Fund).
Mike Jackson from LGSM says: 'LGSM have received a fantastic response across the country during 2015 and we would like to thank all those who bought one of our T-shirts, badges, posters or DVDs. This donation to the Red Ribbon Fund has been made possible by all those who have supported us this year and we know that the money will help those living with HIV/AIDS today. Mark's legacy lives on, both as an inspiration to today's generation of activists and in providing practical help to those living with HIV/AIDS today.'