LGSM leads Northern Pride in Newcastle – Saturday 18 July 2015
Details

Written by

Dave Lewis
LGSM led the Northern Pride Parade in Newcastle on Saturday 18 July, with the Dunston Silver Band. Our banner was followed by the Durham Miners Association banner and contingent and our friends from Durham Pride were also there in numbers. Along the route of the Parade, we were joined by a host of friends and supporters from across the North-East. And our banner was greeted with applause all along the route by those who had turned out to watch the Parade pass.
We met a range of people who had been with us the previous weekend at the Durham Miners Gala and wanted to say hello again. Some of these were on a Pride Parade for the first time and many were not LGBT - but had come along to show their support and as an act of solidarity.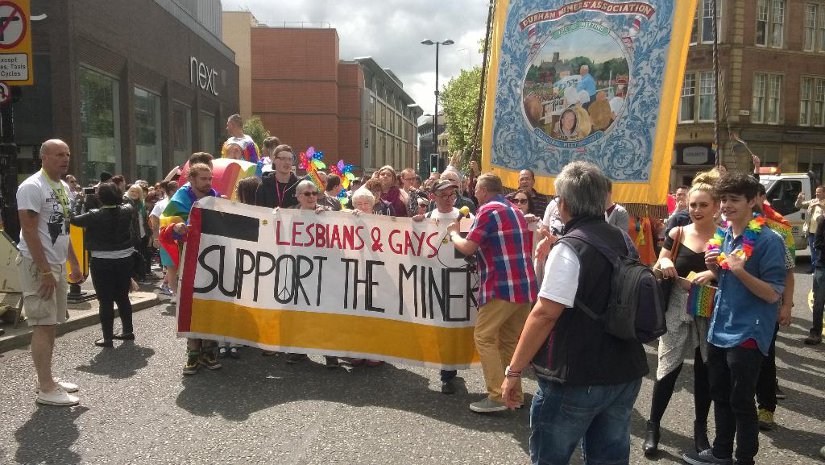 Mike Jackson was interviewed by Pride Radio North East (catch the interview on Sunday 26 July between 11am & 4pm) and spoke from the main stage. The LGSM stall at the festival was busy all day with people wanting Pits & Perverts t-shirts, or one of our badges/posters. Others just came by to say hello, shake our hands, or ask for information on LGSM today. We made some fantastic connections with trade unionists in the North East and others who were from the former mining communities in the area - each of them with stories of family members who were miners until the pits closed and recollections of the 1984/85 strike.
In the evening, we went with our friends and supporters to check out the post-Pride events in Newcastle. At The Boulevard Cabaret Bar, the host, Miss Rory, announced that Mike & LGSM from Pride the film were in the building and the (mostly straight) audience went wild. When Mike went to say thanks to Miss Rory for the shout-out, he met a crowd of people lined up to shake his hand on the way back. We were all a bit bowled-over by the response we received, if I'm honest. The film has deeply touched so many people, but this is particularly evident in the former mining communities. Two young LGBT women came and chatted to us and were ecstatic to get to meet us personally. It was all very humbling.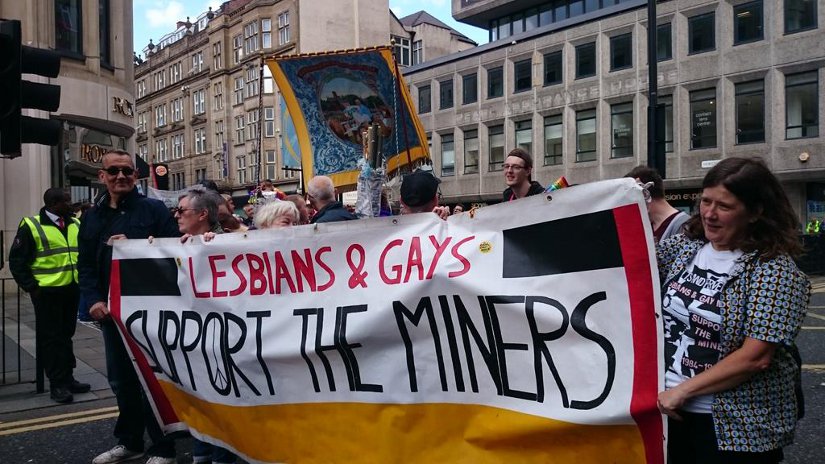 Our presence at Northern Pride would not have been possible if it had not been for the work behind the scenes by Peter Wilcox of the Northern Region FBU and Si McGurk, who was our tour guide extraordinaire! It was a weekend that we will never forget and has helped spread the LGSM solidarity message to hundreds of new friends and supporters.